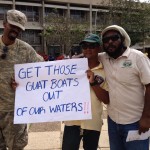 Days ago, Guatemala used military vessels to prevent the free movement of Belizean civilians within Southern Belize. This latest incident is the second to occur between the Guatemalan military and Belizean civilians as one year prior, Guatemalan military vessels had intercepted a group of some 37 Belizean civilians in the same area, kidnapping them taking them across the border to Livingston, Guatemala.
Today, Belizeans gathered at the steps of their National Assembly to impress upon their government the need to stand up against Guatemala's territorial aggression and at the very least begin making the situation known within the international community.
About the Author
Belizean Since November 21, 1982, Points Earned to Date: 0
Comments (0)
Leave a Reply
You must be logged in to post a comment.