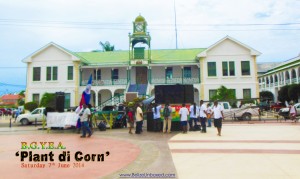 Where were you on Saturday past?
When the people were fighting for their right to plant grass?
Were you genuinely afraid of intimidation?
Were you paid off by the politician?
Were you waiting to see a swell
Or were you like Oh well?
If it is to be it is up to you and me
I cannot teach you what it means to be free!
Think about the future of your family
We need to live with dignity
They are perpetuating this beggar mentality
If we allow ourselves to be bought with hundred dollar bills
It's June again Belize thousands of our children are graduating what jobs will they fill?
We have failed this generation
It's time to take decisive action
Since our politicians do not have a plan
To sit with the boys and gals in Washington and London
Then let's find some Belizeans skilled in negotiation
Let's go to them with our plan of Action
Rod of Correction needs to sit with the other organizations
WGO from outta Griga Dang
CERRO, CABO, Emergent Corp, NGC and engage them
After all we have a common problem
Why not join the Black summit
Or ask Julius Garvey's to address it if and when he visits
There is Garvey Satuyer Initiative is a strategy
We need to engage CABO's General Secretary
We need to include VIP
We cannot afford to exclude any body
It is time to save this country
We need to bring in Hector Silva,Dr. Abigail Mc Kay, Cynthia Ellis, Audrey Matura Sheppard, Evan X Hyde , Nuri Muhammad, Leonides Sanchez, Emerson Guild, John Carr, Theodore Aranda and Dr. Noguerra
They have an economic development plan for the country's future
The skill is to bring these great minds together
So that we can compete in the Diaspora
What did we learn from the passing of Godsman Ellis, Chiste Garcia, Udinga Lumumba, and Adelbert Tucker?
Where were the supporters of UNIBAM?
I thought Belize was one nation
Where were the Muslims, will they be there to help OCCUPY Belmopan
Where was the Creole council?
Why didn't they support or were they supporting in principle
Where was the Council of Churches?
Where were the area representatives?
We all have to join the struggle
We all as citizens must hold ourselves responsible
Where was the Pastors' and Leaders Association?
Where was the Chamber of Commerce to voice their opinion?
I don't see the level of maturity
Required to move this country
People are too thin skinned and touchy
Some people want to be movie stars
Some have their own cause
Where were the members of the Bench and Bar?
Are they waiting for the spoils of war?
Where were the teachers and other public officers?
Where were the youth groups?
Where were the scouts and the girls' guides?
Are they waiting for this revolution must be televised!
Where were the students from the University of Belize?
They missed a less in organizational strategies
The venue was creeping with police and political spies
But they cannot slow down the 2005 vibes!
It is time that the members of this government realize
That the Belizean people are opening their eyes
We will no longer allow them to cast us aside
By: Abdulmajeed K Nunez
About the Author
Comments (0)
Leave a Reply
You must be logged in to post a comment.